REVIEW Jack Crossan
Friday
I arrived just before 3pm but it was after 5pm before my bed for the night was sorted. Queuing is a pain..
First up was a quick visit to The Word stage in Mindfield and I caught the last few tracks from Zack Boone, including 'Beautiful'. Strong Soulful Electronical Acoustic songs from Glen M with backing vocals by Carol McGowan… I will have to catch a full gig sometime.
Next up was New Valley Wolves in Body and Soul. Again I only managed to catch a few songs, but they were powerful enough to make me want to check them out some more at a later date. Definitely a Royal Blood feel to it, but they have their own style. Need further listens…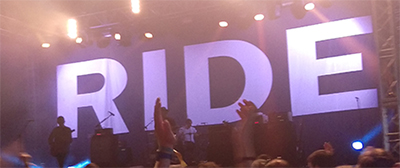 And then it was Ride. A late change of day, time and stage for Ride to 7pm in Rankin Wood on Friday, but they still managed to draw a large crowd..
I had been listening quite a bit to them before the picnic, and the first song didn't disappoint. 'Leave Them All Behind' with its majestic bassline, it made the hairs stand on my neck.. a perfect start. I am a fan, but not a major one so even though the fist 3 to 4 songs were great, it does begin to become repetitive after a while. I didn't stay for the full gig and went to catch a few songs from Dawes. These were quite good too and I did get to hear 'When my Time Comes'. I like them. Country with feeling.. but when you only catch a few songs it's hard to decide how much you like them.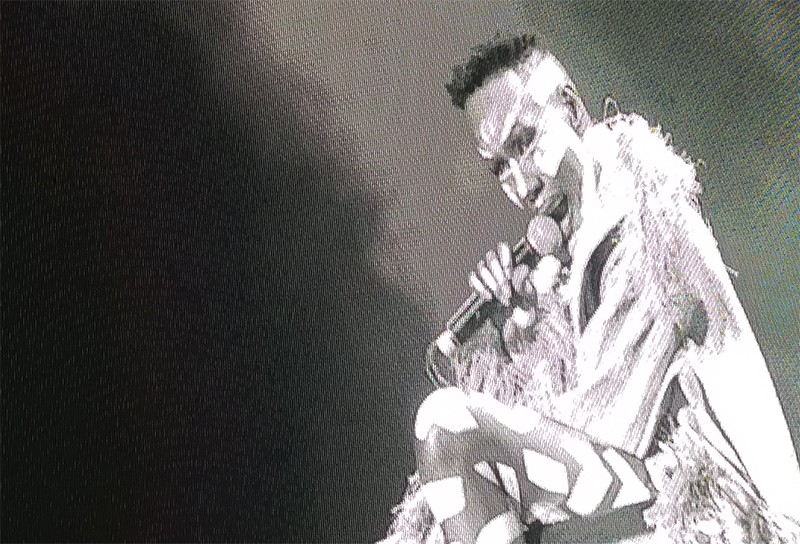 Next up was Miss Grace Jones – What a revelation. Not what I expected at all. She had a tremendous presence. Iconic, Classic, Vintage, natural, authentic… It was just a brilliant show. She played Nightclubbing, My Jamaican Guy, Pull Up to the Bumper, and Slave to the Rhythm. I wouldn't be a fan at all, really. But even with a great backing band, Grace stood out from it all.. Highly recommend you catch a show. Not sure if each show will be this good, but you could be lucky, very lucky…
Belle & Sebastian – I caught a good bit of the show with friends. Just not for me really. Just something missing in the music. Very popular band though. I have tried listening but just haven't the patience to keep trying.
Ho99o9 – just caught the end of their set. It seemed chaotic and lively. Might catch them again.
I missed the following – My Morning Jacket (very disappointed to miss these), Buffalo Sunn, and the Redneck Manifesto, but that's what happens at a festival with so many great bands to check out…
Saturday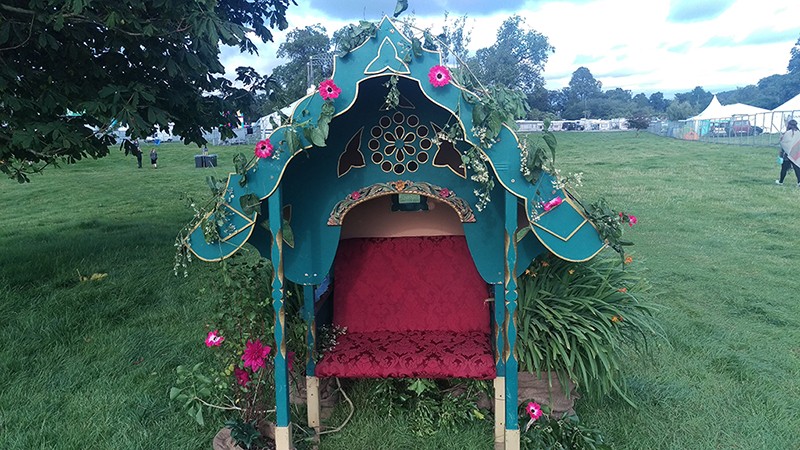 Frankenstein Bolts – caught a few songs. Just alright. Didn't stand out, so I didn't hang about..
We Cut Corners – Again I caught some of their set. Best Friend and Go Easy are top tracks. Not so sure about their full set though. They seem to be lacking something for me.. Could probably do with some more instrumentation as it can be hard to with a 2 piece sometimes..
The Riptide Movement – Their album "Getting Through" was a real surprise for me. It has some really honest and sincere songs that stuck in my head, and I enjoyed their warm energetic set early on Saturday. I wasn't expecting to like them, but I am impressed now..
SOAK – I missed Soak. A talented young lady that I need to check out more… I really like her songs Blud and B A NoBody. I had already seen her full set at Body & Soul. I'm a fan…
Hinds – Just caught one track, but they sound interesting enough for me.. a friend wasn't impressed but I will check them out further..
Future Islands – again I caught a few tracks. An intensive almost angry performance. I need to listen to them so more. Seasons is a great tune.. But I am less familiar with their other songs.. so much music to listen to…
The War on Drugs – I missed these. That happens at festivals.. I would have liked to check the vibe and live feel, but not to be…
Battles – I caught most of the Battles set, including the hynoptic crowd pleasing Atlas which managed to get everyone almost prostrate on the ground for the bass break… and a communal jump by everyone when the drums returned.. it didn't really work, but the atmosphere was infectious in the tent. Their music is quirky, unconventional, even odd, but when it does work, it is highly original and uplifting, almost catchy. Always worth checking out..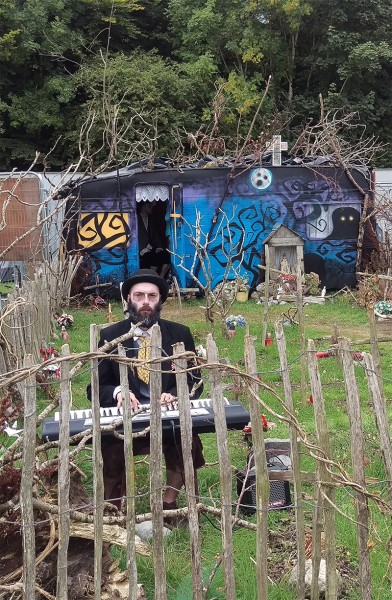 Circa Waves – I would have liked to have caught these, but missed them. Indie pop. I was hoping to check out what they were like live…
Chvrches – They drew a huge crowd to the Electric Arena. Lauren Mayberry has a great voice, and I enjoy the electronics that are layered in their songs. A good band that I should listen to a lot more of. Kind of dreamy pop, can suit my mood at times..
Parquet Courts – damn, I missed these too.. I did catch them in Whelans earlier in the year though…
Blur – They have some outstanding tunes so any Blur show is going to have its moments.. I am probably more familiar with their hit songs and not so much with their albums. I did find it entertaining, likeable, almost satisfying, without an edginess that I relish. Still, it had its moments… There is no other way, parklife, beetlebum and Girls & Boys… these songs always sound good live.. I wouldn't rush out and buy their new album, but I will listen to it eventually, and will probably buy it..
I missed the following – Alvvays, Mac DeMarco, Gavin Glass, Meltybrains, Low (really wanted to see these but I heard there was issues with sound and noise overlapping), Fight Like Apes, Sultans of Ping, Hot Chip, RSAG & Guests
This list is getting longer!
Sunday
Barry Murphy (Gunter) – I quite like Gunter, Barry should probably just undergo the full transformation and be Gunter all the time.. I like listening to Gunter's advice to us, the pixie heads.. He's logical, kind of cool, but has a boring layer which keeps popping up… and a slight patronising arrogance which is tinged with a yearning to have fun, real fun.. anyway, always recommend seeing Gunter or is it Gunther?
The Boomtown Rats – I have an affection for the Rats… with a 12″ vinyl copy of Looking After No 1 in my collection, and other 7″ singles, I've always been a fan of sorts. They have written some remarkable pieces of music and deserve credit for this.. it was just it didn't exactly light my fire on a Sunday afternoon at the picnic…
I was probably too far back to really get into the groove… I don't like Mondays, Rat Trap, are just top class songs..
Django Django – I had seen their interview earlier in the Hot Press tent and found them interesting enough. A good set and First Light and Default were my highlights. Their odd electro mathematical pop tunes with lots of layers satisfy the geek in me, I must listen to their albums some more.. not overly familiar with their back catalogue..
Interpol – Strange that these are on the main stage at 7pm on a sunday.. they've always been a kind of strange, dour, heavy hearted band. But anyway, I like them, just not sure what the experience was for someone that didn't really know them. I enjoy their intense bass driven angles on music creation. Evil and Slow Hands are cool and glorious anthems, and Rest My Chemistry just shone in the sunshine in its throbbing glory.. I'd watch them any day of the week.

Metz – I managed to rush their show and catch the last few tracks…they were rocking and very very loud.. A different kind of loud from what we experienced years ago as the frequencies tend to pound your chest rather than destroy your ears.. Not enough time to decide how much I like these, but I will check out a full gig sometime soon.. Although I like loud punk and post punk noise shows, there has to be something more than just noise.. so I'm just not sure if the tunes are there with Metz, and I have listened to quite a bit of them..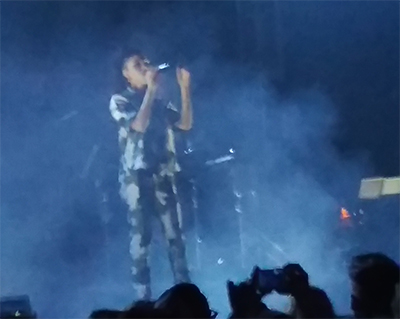 FKA Twigs – what a super mesmerizing show. One of the best of the weekend. Rhythms, angles, shape shifting and more, with all kinds of vocal loops and hoops. It is very hard to describe what is going on, with off kilter bass synths, drum rhythms and elastic pitched vocals. It's probably best to experience this live to understand what it is, and to get a kick out of it.. A very talented lady.. Might not be to everyone's taste but I appreciate what's going on, and I like it.. I like being challenged and this is challenging.. for some reason a duet between FKA and Death Grips would seem compelling to me..
Girl Band (twice) – I caught the end of their show in …. and it sounded great.. Powerful stuff in a tent..
And I planned to catch Tame Impala (whom I wouldn't be a big fan of) but circumstances beyond my control, meant I ended up a Salty Dog early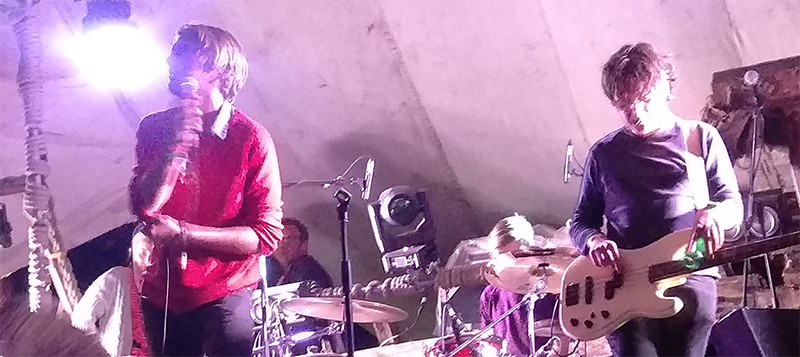 instead and caught The Mighty Stef who plodded away and were quite good. I should really listen to some of their records.
So I ended up catching the full set from Girl Band on the Salty Dog stage, and it was the highlight of the picnic for me.. It was powerful.. intense, with screeches and snarls and melodic angles, layered with a vocals that shouted, spoke and rambled. It will be interesting to see where they go from here…
That was it.. my EP 2015… I'll be back in 2016..
The only downside is that the music has definitely become more mainstream, and the festival has morphed into a quasi oxegen type festival, and there is less edgy experimental alternative bands for me to see, but there are always at least 10 – 12 bands worth catching.. so it makes sense to go.
I'm not denouncing Oxegen, because it always had a great lineup and regardless of other issues with it, Oxegen always had a fantastic line up.. I saw Nine Inch Nails at Oxegen! and I was MGMT in the smallish tent when they had just broken and it was way too full.. and I saw The National in a small tent to the side of the main stage, I could walk right up to the front… and watch them set up themselves… It's just that Oxegen lineups changed too.. and it became more mainstream.. but that's life, and maybe that's what younger generations want.. marketing has become so slick these days..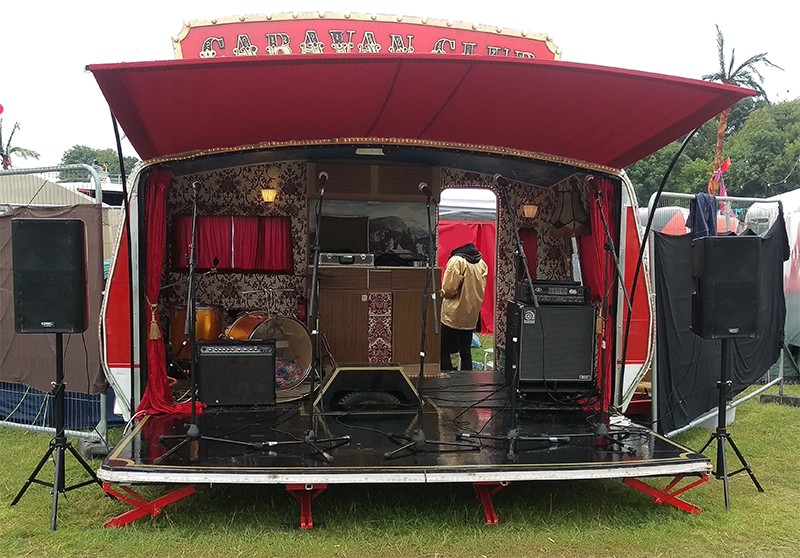 I should probably try some other festivals in Europe, I have been to Primavera Sound, and in terms of lineup, it usually beats any other festival with the selection of music and the type of music I listen to.. I am sure there are other festivals that are similar…
I missed the following – Girlpool, Kid Karate, Frank & Walters, Mick Flannery, The Strypes, The Academic, August Wells, Tame Impala, Manic Street Preachers, Villagers, Florence & The Machine, Plutonic Dust, Jape, Pond, Fat White Family, Viet Cong, New Jackson, Despacio, Viv Albertine
I'll have to catch these somewhere else..