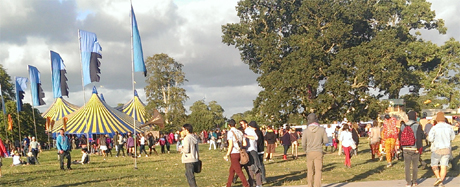 What a great festival. It has it all. Music, food, art installations, cake…
This was my 9th Electric Picnic. I missed the first one.
I've been at Stradbally every year since 2005, the year Arcade Fire played the Electric Arena. An epic gig and atmosphere.
Other highlights that year were Kraftwerk, The Flaming Lips, Nick Cave and the Bad Seeds, Mercury Rev, LCD Soundsystem, and The Kills
In 2006 my highlights were PJ Harvey, Deus, New Order (with Hooky), Tapes N Tapes, Broken Social Scene, Gary Numan, Archie Bronson Outfit, Yeah Yeah Yeahs.
The best bands of 2007 were The Fall, Beastie Boys, The Jesus and Mary Chain, Sonic Youth, Iggy & The Stooges (including 100 invitees on stage), The Undertones, Chemical Brothers, Nouvelle Vague, Modest Mouse, Primal Scream, Ratatat, Deerhoof, and 65 Days of Static
2008:  My favourites were Carbon Silicon, Givemanakick, Sigur Ros, The Gutter Twins, Crystal Castles, Dan Deacon, Santogold, Grinderman, and the Sex Pistols
2009: A Flock Of Seagulls, Billy Bragg, Dinosaur Jr, Madness, MGMT (didn't see these!), The XX, The Big Pink, and Lykke Li were the most memorable.
2010: I liked Eels; Foals, Jonsi (Sigur Ros), Public Image Ltd, Redneck Manifesto, The Horrors, and The National
2011: Adebisi Shank, Arcade Fire, Big Audio Dynamite, Blonde Redhead, Death in Vegas, Esben & the Witch, Interpol, Mogwai, The Chemical Brothers, The Drums, The Go!Team, The Jezabels, The Minutes, The Undertones, Underworld, White Lies, and Yuck
2012: Bats, Crystal Castles, God Is An Astronaut, Grandaddy, Grimes, Metronomy, Patti Smith, Paul Buchanan, Richard Hawley, Sigur Rós, The Cure, The Horrors, The xx, and Tindersticks
2013 The best bands for me were
FRIDAY: My Bloody Valentine, Cronin, Meltybrains, Lotus Eater, Sunken Foal
SATURDAY: The Beat, John Murry, Deap Vally, Parquet Courts, Palma Violets, Savages, Billy Bragg, BRMC
SUNDAY: Enemies, Terri Hooley DJ Set, SOAK, Johnny Marr, Eels. David Byrne & St. Vincent, Arctic Monkeys
Roll on Electric Picnic 2014…
Bands I'd like to see in 2014 include
Queens of the Stone Age, The Pixies, Depeche Mode, Brakes, Girls Against Boys, New Model Army, Deerhoof, The Wipers (if only!), Nine Inch Nails, Wire, Against Me, The Soft Moon, Singapore Sling, Built To Spill, Cold Cave, Autolux, The Bronx, Fucked Up, IceAge, The Men, Dope Body, Metz, Drenge, Japandroids, Liars, Trail of Dead, Smashing Pumpkins, Bob Mould, Christopher Owens, Paul Weller, No Age, Suicide, Therapy (playing 1st two mini albums), Daniel Johnston, Battles, Sack, Blue In Heaven, Stiff Little Fingers, The Boomtown Rats, Whipping Boy, Girl Band, Rural Savage, The Minutes, A Band Called Boy, Val Normal, Windings, Jogging, No Spill Blood, and Girls Names