FRIDAY
Cronin
A great start to EP13, a stripped down set with Cronin and Nick Kelly.
Including some classics from the Aftermath and an improvised Arclight
Wu Tang Clan
Loud, brash, in yer face. Stayed for a few songs. They definitely cranked up the sound system for this one.
My Bloody Valentine
Amp stack was awesome. Noisy. Shimmering guitars as mbv hammered their way through the best of loveless and earlier tracks.
They made me realise… how good and innovative they are…
Meltybrains
A strange mix. Great atmosphere at this gem of a stage in Body & Soul.
Animal collectivish.. organised chaos. Will explore a bit more in time…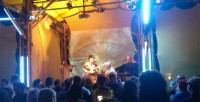 Lotus Eater
Great rocking set from a band I hadn't heard of before.
Strange mix of rock and bluesy female vocals and a tight rocking band. I need another inspection… in time…
Sunken Foal
Excellent atmospherics. Electronics that work. too much beer though. Need to check SF next time…
Katie Kim
late late gig. tiredness setting in on my part. Will check Katie out again. Interesting mix of atmospheric guitar and vocals
SATURDAY
The Beat
Lots of hangovers to cure..and an initially sparse attendance at the main stage seemed ominous.. but once The Beat go going, the crowd swelled,
and their high energy set got the party going at lunch on Saturday… ska for the afternoon with hints of punk and reggae…
John Murry
An intense dark insight into a blue alt country mind. Worth checking out, and I will be getting his album The Graceless Age at some stage…
Deap Vally
A suprisingly sultry afternoon set from 2 rocking ladies. Just drums and deep bass distorted guitars and riffs that really work.
I will be checking these out and will be getting their album "Sistrionix", just out a few months.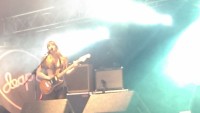 Parquet Courts
One of the gig highlights for me. Great album "Light Up Gold"
Noisy and brash early on, and then some excellent tracks from their recent album.
Playing Whelans in Oct, highly recommended.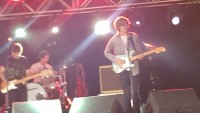 Clinic
I caught a few tracks from Clinic. 80s post punk vintage synths to the fore, with all band members wearing surgical masks. Need to check them out again.
I saw enough to make me interested…
Palma Violets
Great energy and garage rock riffs from a band whose debut album "180" was released earlier this year. Enjoyable gig. Noisy, Young, Rock Fun…
Robert Plant
Caught some of Robert Plants set. Led Zep songs Black Dog and Whole Lotta Love sounded great. Still able to rock out…
Savages
Another gig highlight. Definitely a female joy division, if that's not a paradox! Intense. Chunky bass lines. Eerie sparse guitars. Methodical drums.
Jehnny Beth has an attractive onstage presence, hypnotic, gripping, magnetic. Not for the happy brigade. My type of music…
BJORK
Big stage show and effects. Some good tracks. mystical fairy world, if you like that kind of stuff…
Billy Bragg
Great man. great banter. Almost country feel on this tour, but still a punk rocker at heart…found it hard to leave even though I wanted to catch John Grant.. I stayed..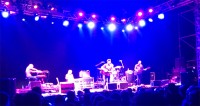 Black Rebel Motorcycle Club (BRMC)
The coolest band on the planet. They have everything. Riffs. Bass lines that rock. Thumping beats. Bluesy vocals..
Stayed for most of the set… They're getting better all the time.. I like Beat The Devil's Tattoo a lot and their new album sounds great too..
Will definitely be at their next gig in Ireland..
Merchandise
Left BRMC (reluctantly) to catch a few songs from Merchandise. Sparse crowd in the Cosby Tent.
Lead singer didn't seem overly pleased by this. Was kind of disappointed with the vibe.
Caught a few good tracks though. Great voice. Very Moz-like, but unique also.
Singer reminded me of a cross between Fergal Sharkey and comedian Owen O'Neill, strangely!
"Time" is a great track.
HK119
got better in the 2nd half of her set. I can see when Bjork likes her.. was a bit late for me to fully appreciate what she was playing.. no stamina on my part!
Somadrone
Too late. can't remember a whole lot of this. made a effort to catch them.. will check them out next time…
SUNDAY
Enemies
Caught 3 or 4 tracks from enemies.. I like them.. instrumental with some voice parts.. complex enough in parts.. but definitely kept my interest.
I will be getting both of their albums We've Been Talking (2010) and Embark, Embrace (2013)
Strangely there is another Irish band called "The Enemies".. prefer Enemies though… that's going to be confusing going forward…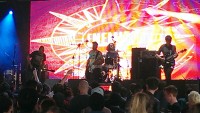 Terri Hooley DJ Set
What a joy this was.. Terri was happy, we were happy, the songs were great, probably one of the best afternoon sessions in quite a while.. a great mix of punk, pop, mondays and more…
The Strypes
Just caught the last 2 tracks.. hugh crowd in the electric arena for them.. I'll need to check their debut album before I can decide where I stand with them…
SOAK
Nipped in for a few songs from Bridie before Johnny Marr.. wonderful voice, will definitely check out her album when she gets to release one..
2 EPs are available on iTunes – Sea Creatures EP & Trains EP.
Johnny Marr
This was a wonderful gig. I saw him earlier this year in the Academy… I quite like his album, The Messenger.. standout tracks for me are Upstarts, Lockdown, Generate…
But, his legacy will always outshine his current work, and it was the Smiths numbers that really got the Electric Arena hopping.. especially Big Mouth and How Soon Is Now…
And the finale of There is a Light was almost an out of body experience.. what a buzz… the Smiths are untouchable..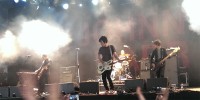 Eels
Mr E was in excellent form, and although they played songs 1 & 2 with no bass, or an under powered bass. they stuck to their guns and produced one of the most entertaining sets of the festival…
E can be down and dark on occasions, but this set was uplifting and spiritual and funny… he, and his band, brought us with them on their blues rock trip.. and with such wonderful songs as Fresh Feeling, Sound of Fear and
Souljacker, the gig had many highs for me.. a 2 song in 1 finale worked great… always will be a fan of Mr E and his songwriting talent…
David Byrne & St. Vincent
I wasn't sure what to expect with this, but inside a packed Electric Arena, I soon realised that I was in a special place.. what a show! Brass, Pop, Rock, dancing, rolling, shaping, enchanting, hypnotic.. it was very hard to take your eyes
from the stage.. highly recommended show.. one of the Picnic's best..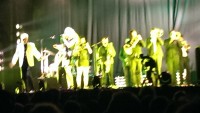 Arctic Monkeys
I'll admit to being half a fan of Artic Monkeys.. really liked the first album, got the next 2, but was never fully a big fan…
Their picnic show had those elements too.. great parts, subdued parts, tired parts (on my behalf)..
It just never really took off for me.. although I must admit, having listened to their new album.. I'm impressed..
Me, the Jury, I'm still out on AM.. but will continue to check them out..